Two Warley players in the GB Junior Team




Roger Kennedy (left) and Graham Harrington have just come back from a GB training camp and tournament in Hungary (August 2010) .

In the tournament GB came first, Roger received the "Most Valuable Player" award and Graham, as usual, contributed greatly to the success of the team.




"All in all it was a good trip", said Roger.

CHAMPIONS




(2007-08)




Warley Juniors pictured opposite after winning their final game of the season against Warwick. Congratulations to all the players on an outstanding achievement and thanks to their parents who have supported us by making sure players got to matches.




The Warley Champions - (In alphabetical order) Aaron Moorfield, Adam Jackson, Bradley Iles, Graham Harrington, Greg Smith, Oliver Jackson, Philip Croft, Rhys York (Captain), Rory Edwards, Robbie Williams, Sam Smith, Tom Gallop.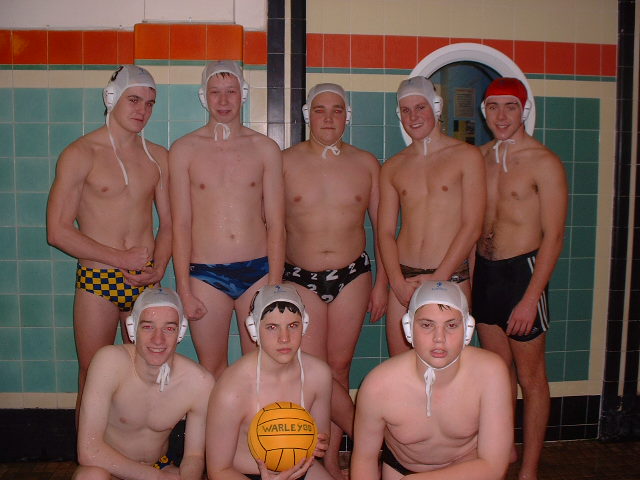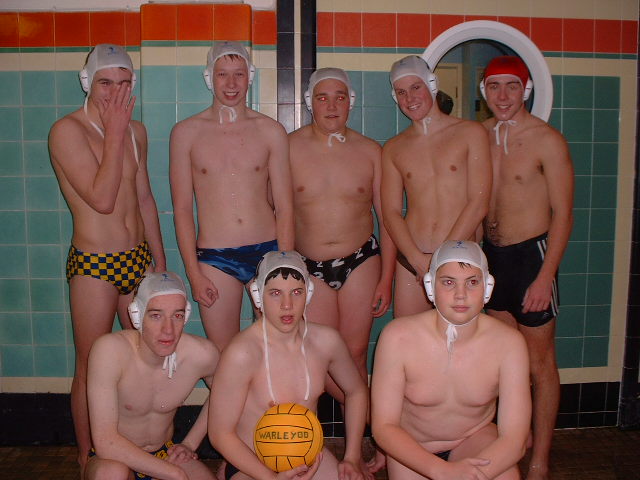 Junior men's team winners 2005-06 and 2006-07
Front: Glyn Taylor, Richard Cox, Philip Croft.
Back: Rhys York, Martin Cornes, Chris Cash, Callum York, Tim Haynes
Juniors 2001 - 02
U18's win final game against HGSOB 13 - 4 to win the Midland Junior
League for the fourth consecutive year.
Players (L to R) James Hingley, Richard Cox, Glen Taylor, Adam Whitehall,
Fraser Handley, Michael Price, Nick Covington, Chris Greenhill and
John Pridden. Not shown Alex Pasonage (Captain, watching the Wolves)
and Neil Thompson (Goal keeper, working)
Inter-District Championships (2001)
Midland's Junior Team in action against the South (2001).
Photo shows Warley players, Gareth Cheadle in Goal (with a black eye),
Ian Wilkins (left arm out), and Chris Greenhill (holding blue 2).
Photo courtesy of Swimming Times.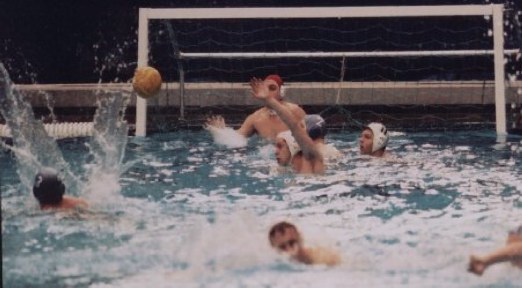 Warley players at 2001 Inter-District Championships at Sheffield.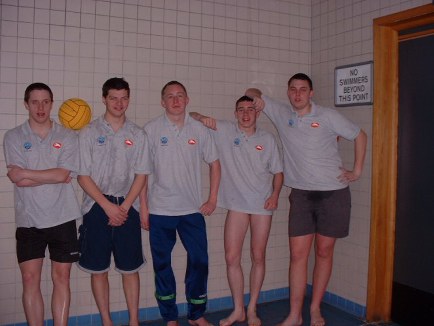 L to R: Ian Wilkins, Chris Greenhill, John Pridden,
Edward Smart & Gareth Cheadle.
Warley players at 2000 Inter-District Championships
at Ponds Forge Sheffield.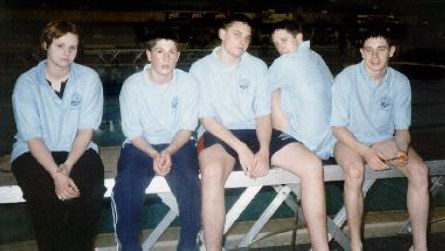 Left to right: Vicky, Alex (U16 Team), Gareth Cheadle,
Ian Wilkins, & Edward Smart (U20 Team)
Below: Nick Covington and Adam Whitehall at Manchester for
the U15 Inter-District Championships. Nick captained the team.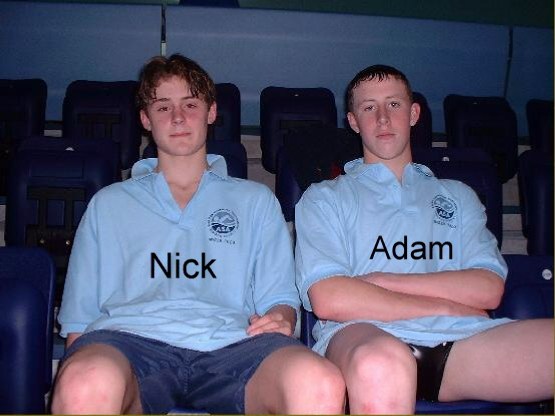 %%